Victor Frankenstein: A New Type of Artist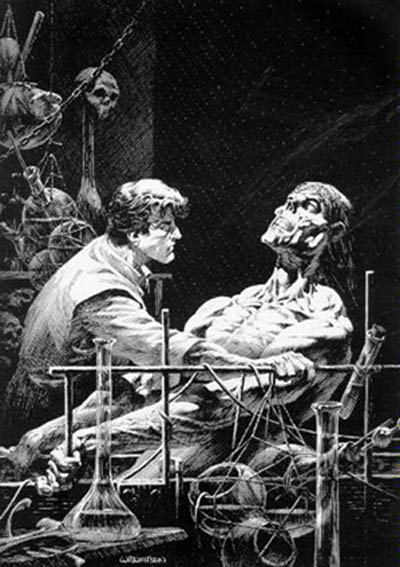 Victor Frankenstein, the protagonist of Mary Shelley's Frankenstein, is a technician unlike others we have encountered in our literature and technology course.  Frankenstein attempts to wield grandiose powers like those of Sir Gawain and the Green Knight's green girdle and The Tempest's protagonist, Prospero.  However, unlike the magical powers of the green girdle and Prospero, Frankenstein uses powers naturally embedded in the world to create his monster.  In this way he seems similar to Daniel Defoe's protagonist, Robinson Crusoe.   However, while Crusoe works within nature he does not understand it empirically.  Moreover, Crusoe, as a technician or artist, only attempts to recreate what has already been created.  Frankenstein therefore exists as a new sort of artist.  He wields powers with ramifications as grandiose as those of the green girdle and Prospero but like Crusoe, Frankenstein creates using powers found in nature.  However, Frankenstein differs from Crusoe in that Frankenstein empirically understands the natural "powers" he manipulates and uses these powers creates something new. 
     At the start of the novel, Frankenstein claims to be drawn to the outdated "masters of science" who seek "immortality and power" because "such views, although futile, where grand" (27).  This sort of science borders on the magic portrayed through Sir Gawain's green girdle and Prospero.   Frankenstein too is interested in things fantastic and wondrous such as "infusing life into an inanimate body" (34).  However, both the green girdle and Prospero's magic are never understood through empirical means.  In reading Sir Gawain and the Green Night, one cannot know if the girdle holds actual power as a sort of "elixir of life" or if it is indeed merely "a chimera" (27).     Similarly, Prospero studies books to perform magic but does not appear to understand the actual mechanics of his art.  That is why, as I argue in a prior blog (and essay), Prospero announces that his "rough magic/ [he will] here abjure" (Shakespeare V, i, 50-51).  He decides to "break [his] staff/ [and] bury it" as well as "drown [his] book" (V, i, 54, 55, 57).  While Frankenstein may be identified with the green girdle and Prospero for his grandiose scheme he differs in that the powers of the green girdle and Prospero seem beyond the realm of nature in their lack of empirical formulation.          
The Green Girdle at www.gallimauphry.com/PD/gawain/girdle.jpg
Prospero at https://mswrede0708.wikispaces.com/The+Tempes…
     Frankenstein becomes fascinated with "modern masters" who "pour over the microscope or crucible and have indeed performed miracles" (Shelly 28).    Thus, both Victor Frankenstein and Robinson Crusoe produce within the realm of nature.  However, Crusoe proves to be a different sort of technician.   He does not venture into the scientific aspects of his creations and one may argue that his attribution of the "grain [growing] without any help of seed sown" to god demonstrates his lack of scientific knowledge (Defoe 58). In contrast, Victor Frankenstein describes himself as "delighted in investigating the facts relative to the actual world" (Shelly 20).  Crusoe and Frankenstein also differ in that Crusoe works to gain "all necessary things" which he might have remembered from home (Defoe 375).  On the other hand, Frankenstein is determined to create outside the framework of what has already been created.  He is interested in "the structure of the human frame" and the "principle of life" (Shelly 30). 
Crusoe at https://mswrede0708.wikispaces.com/The+Tempes…
     Thus, Victor Frankenstein proves to be a new sort of creator.  Through his detailed and skillful (or technical) work, Frankenstein finally realizes that "what had been the study and desire of the wisest men since the creation of the world was now within [his] grasp" (31).  Notice the precision involved in Frankenstein's craft.  It is a process, "not that, like a magic scene, it all opened up to [him] at once" but rather "the information [he] had obtained was of a nature rather to direct [his] endeavors so soon as [he] should point them towards the object of [his] search" (31).  Frankenstein, as a new type of artist, works within and through studying nature and hones his findings to create a force as strong as legendary magic.
  Victor Frankenstein and his monster www.uh.edu/engines/faust.htm
     Although I will not examine it in this blog I would also like point out that it may be interesting to compare the reaction Frankenstein's monster induces in Frankenstein with the reactions induced by the skills of other forms of "techni" we have studied.